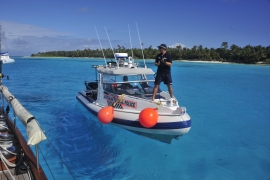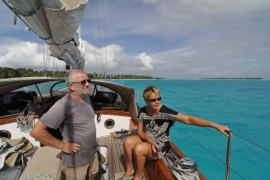 A small paradise in the Indian Ocean – a good stop for us.
Arrived Cocos Keeling anchorage mid day Wednesday 18 September – and it was a good
feeling when the anchor was set in 7m of crystal clear water.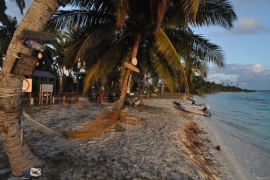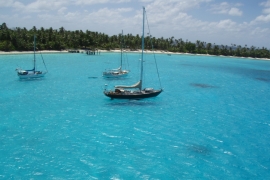 This is a little paradise atoll in the Indian Ocean (part of Australia) with green/blue water, white sand, dolphins playing, sharks, turtles, manta rays which has a cleaning station just outside the anchor, beautiful white birds and nice very clear water. There are three islands – Direction Island, Home Island and West Island. We are anchored at Direction Island and it is a long dingy ride to Home Island where most of the people live.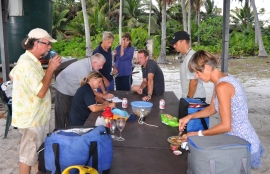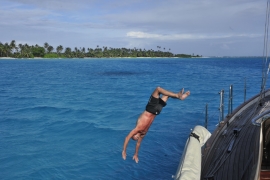 Saturday 21. September we had a barbecue at the beach with all the yachtees.
All the boats in the anchorage are more or less going the same route to South Africa so we have decided to have a net on the short wave radio
together. It feels good to know that there are boats out there on the way to Mauritius which is 2300nm away.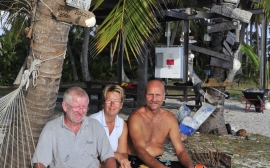 We have been working with repairs and doing maintenance work more or less since we came, the kick was the most important and it is now fixed with a new hole through the deck, because the fitting for the hydraulic hose in the mast broke. But we also have had time to go swimming and snorkeling, the water is much colder here that in Indonesia and at night we put on sweaters and trousers – what a change. I will also dig out the duvets before we leave, we do not need them here, but my be when we get closer to Mauritius. The boat is now slowly getting ready for one of the longer passages – and we hope it will be a good with fair wind and not to many problems. We will keep you updated – the plan is to leave Tuesday if the weather forecast is ok. We always have some butterflies in our stomachs before a long passage and therefore we do a lot of preparations. I have made a lot of dinners that are just ready to be heated up after our experience with the disturbed sea on the way to Cocos, because we do not
expect it to get any better on the next leg.