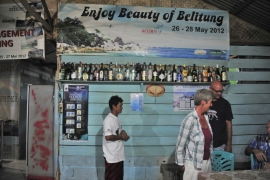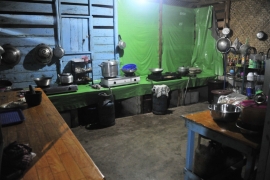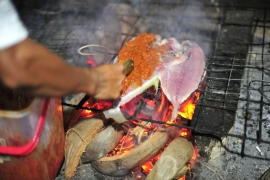 Left this morning 28.08 from Danga Bay after some very nice days with the crew on Nightfly. We have been hanging out at Rusty's place, a small restaurant (shed) on the beach close to the boat.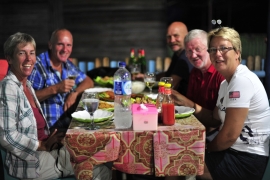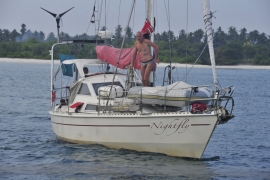 The food was good and very cheap, we payed 180 NOK for food and beer for the five, and it was plenty.
For the first time for a long time we have seen clear water and we did some snorkeling but did not see much coral or fish, but it was a good
feeling to see the anchor again on 6 meter of water. The anchorage was a little bit "rolly" but it was not difficult to put up with it when we had such good company.
Yesterday Maria and Warren sailed off to Malaysia and we rented a car and a driver to go to town and visited the marked which was a lot of fun.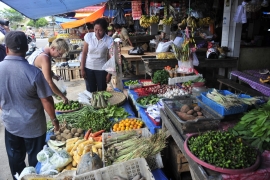 I bought some bananas at the marked so maybe there will be some banana pictures taken the next couple of day on the way to Jakarta, so you just have to wait and see Margaret 🙂
Today we have very little wind and it feels good not the have it strait on the nose. We have decided to sail to Jakarta instead of Bali, we do not want to tack all the way upwind 600nm to Bali (getting to lazy). Warren had a good contact with a nice marina in Jakarta and we will sail from there out in the Indian Ocean. We may take a plane and explore Bali for some days, but have not decided yet.
After a couple of hours with little wind it came again and so strong we had to put in two reefs, so the feeling of no wind was very short as we have experienced on the whole trip.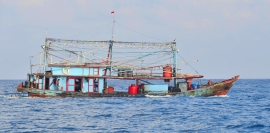 We anchored behind Seliu Island after a good 50nm sailing and made the boat ready for the crossing to Jakarta (stowed away the dingy and serviced the watermaker).
This morning 29.08 at 07.00 we lifted the anchor and set sail for Jarkarta and we hope to be there tomorrow afternoon.