Arrived Bangka Island
After a good night with engine and sail (headwind) we are now at
anchor in the river outside Pulau Bangka.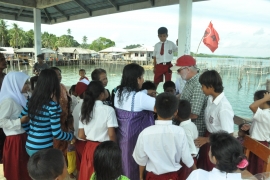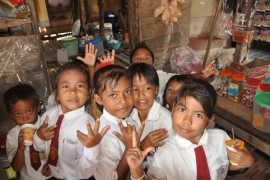 We had a nice and friendly visit to the village on the island Baru.
A lot of children met us at the key and took us to the school. We had coffee with the teachers (3 men and 3 woman + the head master).
We gave them a ball and some candy's and had a look around in the village, got some nice pictures of the kids. We where also invited in to a house and where offered drinks, they have no furniture and no beds but a TV! There was several boat builder at the island and the boys where impressed with their work.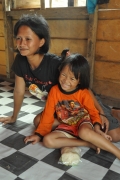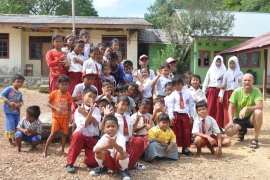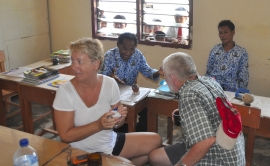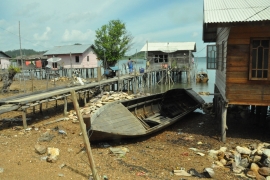 After the visit we left and anchored off an island with a nice beach,
and took the dingy in to the shore to have a look –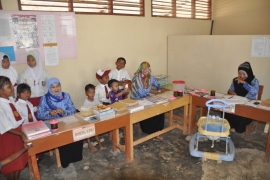 we saw a fishing hut but no people. Back on the boat we started working on the water maker (never ending story) but discovered suddenly that we where almost grounded, so we very quickly lifted the anchor and jumped over some rocks before we got out in the open sea again.
Not very nice and the rudder was not happy about it at all, but it survived with small damages.
We found a new anchorage and stayed there for the night and left next morning to Kongka Besar where we stayed behind the island for some hours and left before dark, for our overnight sail to Bangka.
Here at Banga the beaches here looks great so we will take the dingy to shore and have a look around and maybe go for a swim. We can see a lot of fishing boats on land so we may be lucky and get some fish and vegetables.
We have had mail and radio contract with the crew on Nightfly (Maria and Warren) and are meeting up with them this week and hopefully spend the weekend together. We really look forward to meet them again – last time was in NZ where we spent Christmas 2011 together.
We first met them in Chile in 2010 and had a great night at a "private" island restaurant, and Warren have told us that he had found a similar here in Indonesia which could be very exciting knowing Warren. It could be another life time experience (as it did last time). You have to read the travel letters from Chile to see what happened.